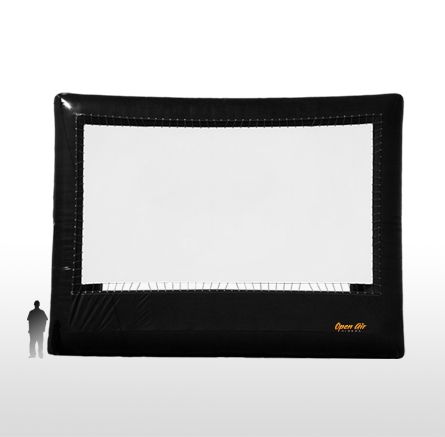 Open Air Elite Series 30' Outdoor Inflatable Screen - ELITE-30

This item qualifies for FREE GROUND SHIPPING! Contiguous U.S. only.
Description
Open Air Cinema Elite 30' x 17' Inflatable Screen
Open Air Cinema's Elite Series of inflatable movie screens bring the magic of the big screen to your local park, music or film festival, resort, or military base. These screens are for community leaders, event producers, and business people who are entertaining hundreds to thousands of people at a time. Boasting our most durable construction and engineering, your Elite Series screen will become an investment for your community that will last for years.
Puncture resistant, with a removable surface for cleaning, and rear projection capabilities so that you can setup your Cinebox™ console behind your screen, the Elite Series of screens is the highest quality product line we offer. Rear projection is highly beneficial when you can't setup your audio visual equipment in front of your screen such as with a poolside cinema event, or when you have a tight area for audience viewing or simply want to minimize clutter for a more professional looking production.
The screen is easy to install in any location. Simply secure the screen with the provided stakes and tethers, attach and turn on your air blower, and the screen will inflate in a matter of minutes. Our Elite inflatable movie screens come in the following widths; 20, 25, 30, and 40-feet.
Key Features
Durable: Heavy Duty 1400 x 1400 Denier PVC material. Double/Triple reinforcements at pressure points.
Self-inflating: Inflates in minutes with no hands needed (under normal weather conditions).
Optimized for outdoor viewing: Theatrical-grade projection surface with black backing
Stable: Structure withstands winds up to 30 mph. Blower keeps internal pressure constant.
Bungee cord connection design prevents wind damage.
Lightweight: Safe and easy to transport and store.
Cost efficient: Short setup time, no structure permits needed, reduces storage and transport costs.
Three year warranty: Under normal wear and weather conditions.
Specifications
Includes
37' x 27.5' Inflatable Frame
30' x 17' Projection Surface
1.5 HP Blower
High Tension Ropes (8)
Heavy Duty Steel Stakes (4)
Sledgehammer
Protective PVC Storage Bag
Repair Kit
Manual
3 year warranty
Accessories
Reviews
Downloads