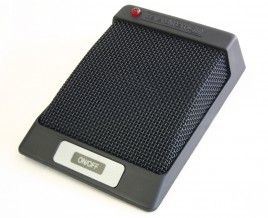 MPC 67 SW Boundary microphone by beyerdynamic

This item qualifies for FREE GROUND SHIPPING! Contiguous U.S. only.
Description
MPC 67 SW Boundary microphone by beyerdynamicBoundary microphone, condenser, semi-cardioid, microprocessor controlled, black
The MPC 67 is an acoustical boundary microphone with many different functions accomodated in a small, unobtrusive housing. Depending on the application, you can choose between three operating modes: On/Off, Push To Talk and Push To Mute. Furthermore, the frequency response can be tailored for use in three modes: linear, 80 Hz bass roll off, 180 Hz bass roll off. The MPC 67 is switched on and off with a noiseless film button. An LED indicator shows the ready-to-talk status. The different functions are controlled by an 8 bit micro controller. Due to its unobtrusive design, the MPC 67 is ideal for tele/video conferencing, round table discussions or distance learning.
Features
"Intelligent" acoustical boundary microphone
ON/OFF, PTT and PTM function
RISC-?C controlled
LED-indicator
Half-cardioid polar pattern
Flat, wide frequency response
Switchable frequency response correction
High-gain-before-feedback
Reviews
Downloads