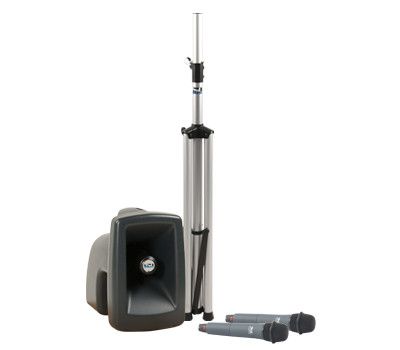 Anchor MegaVox Pro Dual Basic Package - MEGA-BPDUAL

This item qualifies for FREE GROUND SHIPPING! Contiguous U.S. only.
Description
The MegaVox Dual Basic Package (MEGA-BP DUAL) comes with a portable public address system that is lightweight, loud, and easy to carry. It is the most reliable PA system on the market. It includes the MEGA-8000U2 speaker which comes with two built-in 16 channel wireless receivers, Bluetooth receiver, and your choices of two wireless mics, and a speaker stand. Every MegaVox also comes equipped with an alert siren, a wired microphone, and a convenient shoulder strap. It has a built-in rechargeable battery that runs up to 10 hours on a single charge. Use it for sports, marching bands, emergency situations, crowd control, auctions, or on the playground.
Includes MEGA-8000U2 speaker with two built-in wireless receivers, Bluetooth receiver, SS-550 speaker stand, shoulder strap, MIC-50 wired microphone with coil cord
Choice of two transmitters available WH-8000 wireless handheld mic or WB-8000 belt pack
Choice of wireless handsfree microphone CM-60 collar Mic, EM-TA4F UltraLite mic, HBM-TA4F headband mic, or LM-60 Lapel mic
Specifications
Warranty (Length/Type) : 6 Years
Reviews