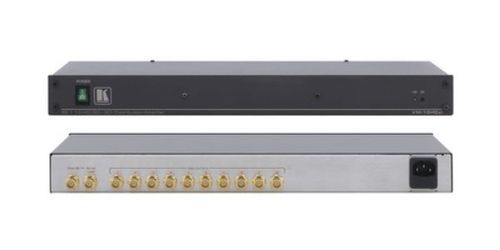 Kramer 1:10 3G HD-SDI Distribution Amplifier - VM-10HDXL/110V

This item qualifies for FREE GROUND SHIPPING! Contiguous U.S. only.
Description
Kramer AV VM-10HDxl - 1:10 3G SDI/HD Distribution Amplifier
The VM-10HDxl from Kramer is a high-performance distribution amplifier for 3G HD-SDI signals. The amplifier will take one input, provide the correct reclocking and equalization, then distributes the signal to ten identical outputs. This is ideal in SDI production studios for signal distribution and equalization, as well for use in broadcast studios for On-Air operation & SDI field production.

This distribution amplifier uses a multi standard operation: SDI, HD-SDI, or 3G HD-SDI at a maximum data rate of 3Gbps. Features Kramer's re-Klocking & equalization technology to rebuild the digital signal to travel longer distances. Has a HD-SDI & SDI input indication LED's to display which input is active, and a compact size where 3 units can be rack mounted side-by-side in a 1U rack space with the optional RK-3T rack adapter.
Key Features
Max Data Rate: 3Gbps
Input: 1 SMPTE 259M/292M/344M/424M serial video
Output: 10 equalized & reclocked SMPTE 259M/292M/344M/424M, 1 looped GENLOCK on a BNC connector
Connectors: BNC
Specifications
Please refer to product data sheet for specifications.
Reviews
Downloads