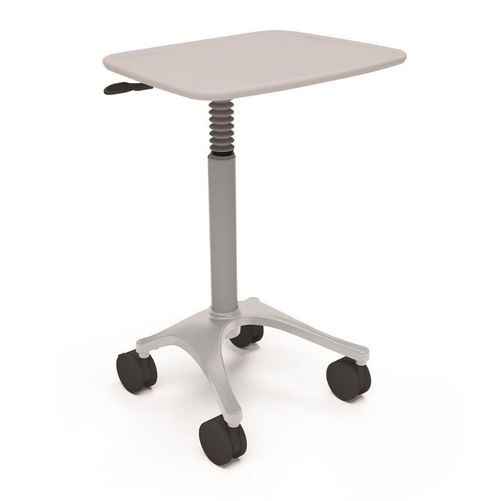 Ergotron Zido® 22, Adjustable-Height Cart - ZAL22CG/CG4

This item qualifies for FREE GROUND SHIPPING! Contiguous U.S. only.
Description
Zido® 22, Adjustable-Height Cart
Perfect for laptop applications! Versatile, easy-to-customize Zido carts have all the flexibility you need. Choose from dozens of accessories and outfit your Zido cart to hold a computer system, a laptop, or small devices and supplies. The adjustable-height column moves the surface between 30" and 40" (76–102 cm) high so you can position it at the right height for you. This model's surface-width is 22" (56 cm).
Height Adjustable
Find a comfortable height whether sitting or standing
Squeeze the lever and a pneumatic cylinder moves the surface to any height between 30" and 40" (76–102 cm)
A Strong Foundation
Zido's heavy cast-metal base provides a very stable foundation
Even though it's small to fit tight spaces, this cart holds up to 150 lbs (68.2 kg) total, and up to 30 lbs (13.6 kg) on the height-adjustable platform
Load It Up
Different Zido accessories install on the front or the back of the column to maximize your space
Add storage, cable management, or keyboard and monitor mounts
The column has holes in 1" (2.5 cm) increments to install shelves, bins and other accessories at exactly the right height
Reviews
Downloads