Encore Tab-Tensioned Electric Screen - 52x92 - Open Box

This item qualifies for FREE GROUND SHIPPING! Contiguous U.S. only.
Description
This screen is an open box model. It has been tested to be in working condition.
Encore Tab-Tensioned Electric Screen
Size:
106"D (52"H x 92"W)
View Surface:
Matte White
the Encore Tab-Tensioned Elegant Motorized Projection is ideal for applications where a recessed installation is not desired or feasible. In-the-roller motor mounting system for quiet operation. The handsome black angled case blends with any decor. Tab guide cable system maintains even lateral tension to hold surface flat while custom slat bar with added weight maintains vertical tension.
Plug & Play is equipped with a remote controller and receiver built into the power cord
Matte White fabric is standard
The case is a beautifully designed black alloy case that can be installed against the wall or ceiling
Heavy duty support brackets are included
Exceptional quality for high definition television/movies
Installation is suitable for home theaters, research institutions, government, command centers, etc.
The sides of the screen utilize a self-tightening system that ensures the screen is flat and level
The Tab-Tension model utilizes a heavy duty motor made by Somfy Systems
Unique noise control design ensures that raising and lowering the screen is smooth and quiet
Large diameter roller ensures long-term screen integrity providing a consistent flat projection surface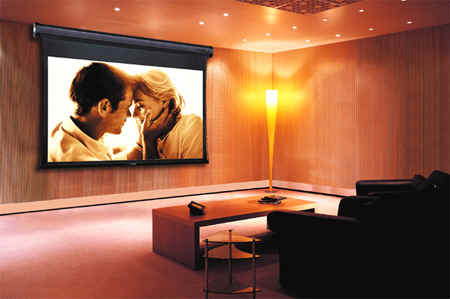 Click Here
for specifications and dimensions.
Focused Technology is dedicated to ensuring that you get the right projector screen for your needs. Please call
1-888-686-0551
for help from one of our projector screen experts.
Specifications
Plug & Play is equipped with a remote controller and receiver built into the power cord
Matte White fabric is standard
The case is a beautifully designed black alloy case that can be installed against the wall or ceiling
Heavy duty support brackets are included
Exceptional quality for high definition television/movies
Installation is suitable for home theaters, research institutions, government, command centers, etc.
The sides of the screen utilize a self-tightening system that ensures the screen is flat and level
The Tab-Tension model utilizes a heavy duty motor made by Somfy Systems
Unique noise control design ensures that raising and lowering the screen is smooth and quiet
Large diameter roller ensures long-term screen integrity providing a consistent flat projection surface
Reviews