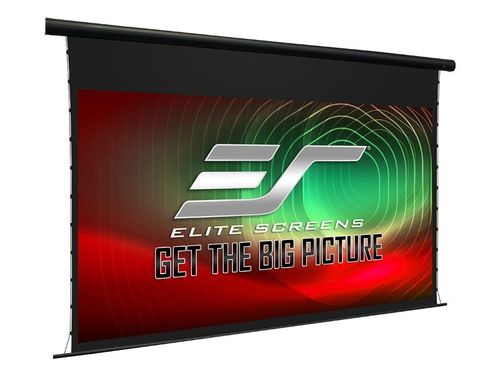 Elite Screens Yard Master Electric Tension CineWhite, 125", 16:9, CineWhite® fabric - OMS125WHT-ELECTRIC

This item qualifies for FREE GROUND SHIPPING! Contiguous U.S. only.
Description
This Yard Master Electric Tension CineWhite screen features a 125" diagonal viewing surface. 16:9 aspect ratio is ideal for movies and HDTV content. Features CineWhite® projection fabric.
CineWhite X
The CineWhite® X (Tensioned Matte White) is a 1.2 gain flexible front projection screen material that is certified by the world-renowned Imaging Science Foundation for achieving accurate color reproduction and image fidelity. It has wide diffusion uniformity that allows equal brightness levels over a 180° viewing angle. The versatile properties of this material make it a natural fit with ultra-short, short, and standard (long) throw projectors. The material is also suited for either residential or commercial applications. The CineWhite® X produces outstanding images that are accurate in color and contrast in environments with controlled lighting. The surface is precisely formulated to ensure optical image characteristics for high resolution projectors.
Provides a clear bright uniform picture regardless of seating position
Increased reflectivity enhances projector brightness for better HDR performance in a dark room environment
Black backing eliminates light penetration and picture degradation
ISF Certified for Accurate Color Reproduction – An industry standard for high-fidelity video display systems
Compatible with Ultra-short, Short and Standard throw Projectors
4K Ultra HD, HDR and Active 3D compatible
Outdoor Electric Tab-Tension Projection Screen
The Yard Master Electric Tension CineWhite® Series is an outdoor electric screen that is IP33 rated for water protection for outdoor applications. The tab-tension design supports a front projection surface with perfect uniform flatness. This allows you to use either an ultra, short, or standard-throw projectors.
The CineWhite® material provides excellent brightness uniformity, color reproduction with superb image clarity which makes it a must for outdoor home or commercial video applications. It is ideal for nighttime movie presentations.
The screen comes with a Radio Frequency remote control that doubles as a wireless 12-volt projector trigger that coordinates the screen's drop and rise with the projector's power cycle.
Screen Material
CineWhite® 1.1 Gain matte white flexible front projection material
Wide viewing angle allows the audience to see a clear, bright, uniform picture from any angle
Standard 4-side black masking borders absorb projector overshoot while enhancing visual contrast
Black backing eliminates light penetration for enhanced brightness and color saturation to prevent picture degradation
Compatible with Standard, Short, and Ultra-Short Throw Projectors
Compatible with Full HD, Ultra HD (4K/8K) and Active 3D projectors
ISF Certified for accurate color reproduction – An industry standard for high-fidelity visual display systems
Available in diagonal sizes 110"/125" and 140" with a 16:9 aspect ratio
Design and Installation
Designed for outdoor use without compromising its home theater visual appeal
Dynamic indoor home theater quality with the durability of an outdoor product
Ideal for backyards, patios, pool decks, and recreation room installations
Rust resistant aluminum floating brackets allow flush wall/ceiling installations to be perfectly centered
Floating eyebolt construction enables hanging installations
Tab-tension design provides uniform flatness over the entire screen surface for use with standard, short-throw and UST projectors
Radio Frequency remote for long range operation without line of sight required
Wireless 12-volt projector trigger included to synchronize the projector's power cycle for drop/rise operation of the screen
IP33 Rated for protection against water spray less than 60 degrees from vertical
Quality and Reliability
2-year limited warranty, and 3-year warranty for ENR-G – Education, Non-profit, Religious and Government/Military organizations
Lifetime Tech Support by Elite Screens Professional Service Team through Email, Phone or Online Form.
Reviews
Downloads