Description
This StageScreen screen has a viewing area of 216" x 720", for a 752" diagonal measurement. This MultiFormat screen can mask between two different aspect ratios. Uses Draper's Matt White XT1000VB projection surface.
About Matt White XT1000VB Fabric:
Matt White XT1000VB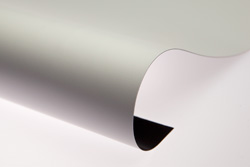 Extra Wide Viewing Cone/Typical Contrast/On-Axis Gain of 1.0
Draper's M1300 viewing surface with a black backing for situations where ambient light behind the screen is an issue. No half-gain angle. GREENGUARD GOLD certified.
Designed specifically to be flown, but can also be used with legs. Either way, it is the strongest and most rigid screen on the market.
Reviews